Greenleaf Tree Service will enhance the beauty and value of your residential or commercial property with tree removal, tree stump removal, tree trimming, pruning, planting and mulching.
We provide free estimates, have a 24-Hour Emergency Service are licensed and insured and offer a 10% discount for seniors.
Our crews are prompt, safe and skilled professionals.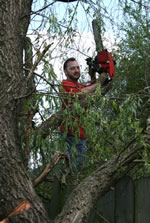 Main counties served in Maryland:
Anne Arundel County MD
Baltimore County MD
Howard County MD
Montgomery County MD
Prince Georges County MD
Main cities served in Maryland:
Annapolis MD
Bowie MD
Cheverly MD
Crofton MD
Hyattsville MD
Laurel MD
Odenton MD
Washington Metropolitan Area.
Give us a call and let us help you maintain the beauty, health, and well-being of your valuable trees and grounds.
Check out our other tree services at:
Affordable Tree Services Maryland
Contact Information
Tel: 301-464-5611
Email: jim@greenleaf-treeservice.com